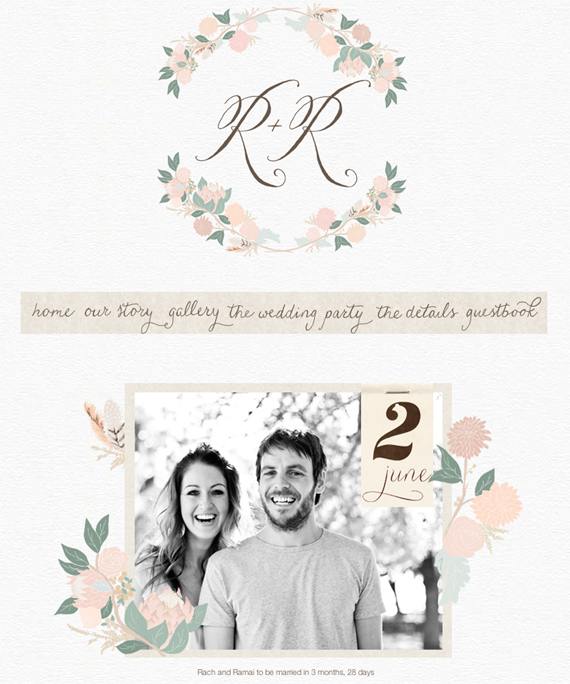 I'm so excited to share this with you! I've been seriously DYING to show everyone our beautiful wedding website for weeks now, and I just couldn't hold on any longer, so here she is…
(drum roll please)
May I now introduce to you, the gorgeous, the fabulous, the so-pretty-it-brings-a-tear to my eye, rachandramai.com!
(confetti and cheering ensues!) 

The Backstory, Or Why We Decided To Create A Wedding Website
I got in touch with the extraordinarily talented Tabitha Patterson last year because I've been a ginormous fan of her work for quite some time and knew she'd be the perfect person to help us capture the mood of our wedding day creatively.
Because we're having our wedding in Byron Bay and most people are making a weekend of it (hooray!), there are a bunch of details that didn't quite fit on the invitations, so Ramai and I decided to pull together a website that contained all the necessary information, as well as giving us a platform to share our photos, talk about our love story (and how we got engaged) as well as write something special about each member of our bridal party. The idea is that it will give everyone a little taster and set the tone for a very special day.
I think you'll agree Tabitha has absolutely nailed it with the site design. My favourite parts are the hand-illustrated R & R monogram and the flowers that pop up when you scroll over the main nav bar. It's all in the details!
I'm going to let you head over and see for yourself, but I really hope you enjoy reading the words we've whipped up. I have to tell you that I sat at the computer sobbing on more than one occasion when I was working on this site. Writing about the most important people in your life is an emotional undertaking!
* I should also mention, I've made one of the pages 'The Details' private for now, so please excuse the strange looking text when you click that one, and also, the site looks best on a Mac. As most sites do. 
+ What do you think? Tell me in the comments! Are you swooning over Tabitha's work as much as I am?
+ If you get a chance, I'd love you to leave us a comment in the guestbook too. All words of wisdom or 'hi there's' will be gratefully received x