Hello, hello, hello!
Gosh it's nice to be back. I feel like there's so much to fill you in on with regards to our wedding (also known as the best freaking day of my life!) so I'm going to create a series of posts related to our Big Day – Part 1 here, to talk about the week of, and the rest once I have our professional photos back, because I've come to realise it's rather hard to explain the details otherwise.
I've had lots of questions and emails about various elements already so I hope I can cover off everything in this series of posts, but of course, if I can help with anything with your planning if you're a bride-to-be, just shout out or leave a comment below.
Just so you know, I'll be covering:
+ The Amazing People Involved in Our Big Day
+ The Important Deets (including information on where you can buy some of the decor)
+ The Highlights

The Beautifying
Pre-wedding, I had a gorgeous little fantasy in my head that went something like this:
The wedding would be completely planned 3 weeks before the actual date and I would spend my time meditating, luxuriating in warm baths filled with detoxifying salts and bubbles a-plenty, face masks plumping and hydrating and doing everything they're meant to do. I would go for head-clearing bushwalks, and use my Omnilux hand-held New-U every second night, and live on salads and H20 to ensure maximum glowiness, and I'd wake up on the wedding day feeling like a Victoria's Secret model who had been living at a health retreat for 6 months.
Ahem.
This is how it actually went…
+ I squeezed in facials on my lunch hour.
+ I sped through traffic to get to Hypoxi appointments after work, and while there, I replied to emails on my phone. Prescence? What presence?
+ I changed an Omnilux facial appointment 3 times (I never do this) after booking it for the Thursday afternoon before our wedding – the same time I had to be in Byron Bay unloading furniture/ wedding decorations. Turns out there's only one of me.
+ I cursed silently as I got eyelash extensions done on Thursday (who can lie still for a full hour?!) and heard my phone ring 15 times in my handbag.
+ I ate chocolate every day. Sometimes as a snack, mostly for lunch. I also lost 3 kgs around that week (don't try this at home kids, it's one of those freakish wedding things that never translates to "normal life" – believe me, if it did, I'd know).
+ I laughed my head off, woke up on our wedding day feeling calmer than I've ever felt and realised that none of the rushing and squeezing-into-unrealistic-time-slots mattered, because the make up artist (Ash Penfold, who I'll talk about in a future post) and my hairdresser (Alisha Anjaiya, again who I will introduce on a later post) knocked it out of the park and I truly felt more pampered and prettified than I've ever been before.
Moral of the story? Surround yourself with good people.

The Treatments Explained
I've promised some of you that I'll delve a bit deeper into  Hypoxi and Omnilux (very fancy sounding, no?) as I know your curiosity was piqued, so read on…
HYPOXI 
I first discovered Hypoxi a few years ago via a women's mag and being the "I'll try anything once" type, I trotted off to the brand spankin' new studio that had opened in my area and signed up for a bunch of sessions immediately.
I was hooked from the get go. Despite being a regular exerciser, there were things Hypoxi did for my body (toning, smoothing, tightening and cellulite blasting) that running/ gymming just did not do for me. Definite winner.
Being slightly outlandish (and addicted to the Hypoxi "high" – I don't know what it is but there's something about all that lymphatic drainage and circulation boosting that makes me feel on top of the world) I booked in for 24 sessions this time around but it was really only 12 that I did properly/ consistently as I was kind of all over the place initially. I did the last 12 in the 3 weeks leading in to our Big Day, which worked a lot better.
What actually happens?
After taking your measurements (waist/ stomach/ hips/ butt/ legs) at the first session, a heart rate monitor is strapped around your waist and a velcro temperature strapped around your upper thigh and then a neoprene "skirt" is placed on with the assistance of a Hypoxi staff member. You are then helped into either an upright machine (S120) or a lie down machine (L250), where you pedal your legs for 30 minutes on a resistance that feels right for you.
The idea is that you keep your heart rate in the fat burning zone, and while you are cycling, the machine acts as a vacuum, circulating positive and negative energy to heat up those problem areas (hello butt and thighs!)
The next time you go for a run or go to the gym, touch your legs/ butt/ stomach afterwards and they will most likely feel cold. After Hypoxi, they're hot. And that's where the genius of the machine lies – increasing blood flow to the areas where we are prone to storing fat. Think of it as "melting away" the wobbly bits.
My results:
5cm off my waist
4cm off my stomach
9.5cm off my hips (yeahyah!)
5cm off my butt
2.5cm off my legs
Note that it's not cheap at $690 for 12 sessions, but in my opinion, completely worth it. I don't go out every weekend/ pay $10 a drink/ while away my dollars on cigarettes etc, so I look at this as a solid investment in feeling fab.
OMNILUX
I love lamp. No seriously, I do. In a major way.
What is it?
In a nutshell, Omnilux is a very bright light (lamp) which you lay under for 20 minutes (with goggles on), during which time it will boost collagen, brighten and tone, soften up facial lines and * BONUS * leaving you feeling mega happy like our good friend Hypoxi. It's just one big serotonin-fest around here, isn't it?
Trust me when I say you will glow like a mofo after just one sesh. I wanted to immediately raid our wedding fund and book eleventy hundred sessions 'til the end of time, because I just don't think anything else will compare on the facial front now. I was planning on just one sesh – which I had on the Monday of our wedding week – but HAD to book in another for Thursday because… well… who wouldn't? I've never had more compliments on my skin.
Again, you're looking at a not-cheap $120 per session (packages are also available – I had mine at Elysium Beauty in Burleigh Heads FYI) but there are different heads for the lamp depending on what result you're after.
Revive is for glow and "make me feel awesome"-ness.
Plus is best for mature skin.
Blue is perfect for clearing acne and congestion.
Sky high thumbs up from me. I'll be back!

The Crafting/ DIY'ing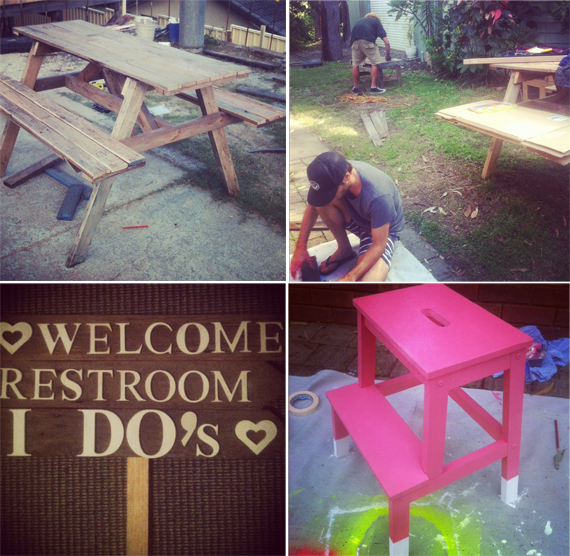 The Sunday before the wedding we had a big family "craft and construction" day, during which we made some of the decor elements shown above.
Handy tip: for those wanting to make wedding signs that look pretty cool and don't want to paint the lettering on (stencils are rubbish), Bunnings sell paper letters that can be painted and glued to old fence pailings. This was an Important Discovery in the MacDonald household. It's amazing what you'll deem as Important when you're planning a wedding.
Other stuff:
Between Monday and Wednesday last week, we also wrote our vows, got all the paper goods printed, replanted succulents in glass jars, tied ribbons and glued them to programs, stuck drink flags to straws, drove up and down the Coast a bajillion times, attended beauty appointments as mentioned, finalised run sheets, printed photos out, bought presents, organised desserts and cocktail ingredients, collected chiffon for draping on our arch.. and oh, changed our plans completely for our ceremony due to the rain.
The Set Up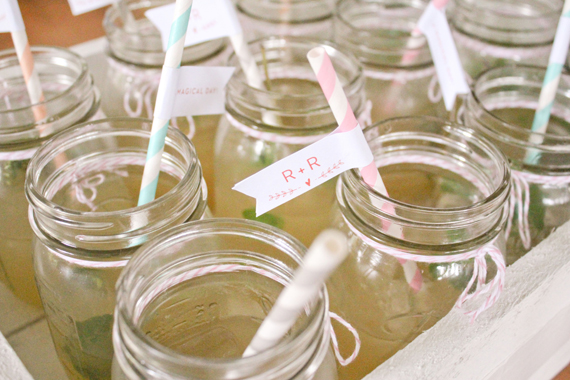 Which is as good a time as any to talk about Thursday evening.
In the pouring rain, we set out from my parents house where we had packed a large trailer, my brothers van, my other brothers ute and Ramai's car with all our decor/ furniture items. On the way we stopped in to borrow (even more) bits and pieces from our friends from Little Gray Station Vintage prop hire. It was a production, I tell ya.
Here's our convoy: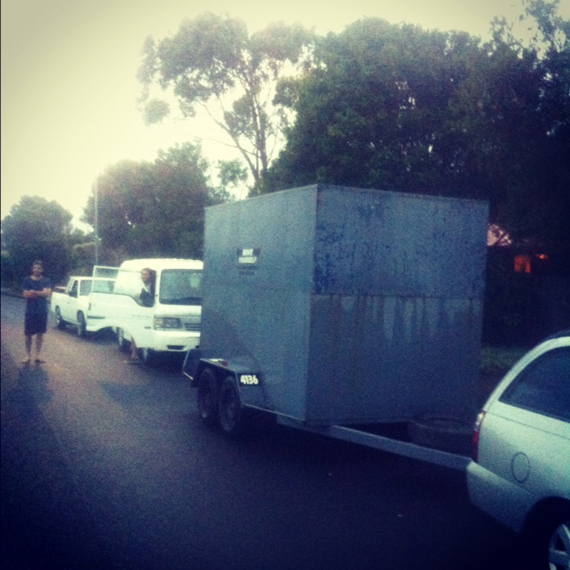 We got to our wedding venue – which is about 50 minutes from where we live – at about 6pm (still pouring… by now I had completely accepted we were having a wet wedding) and unpacked the inventory, drove back up the Coast, crashed out, woke at 4:30am (my body's new wake up time) and headed back down to Byron again to start the real work.
The Coming Together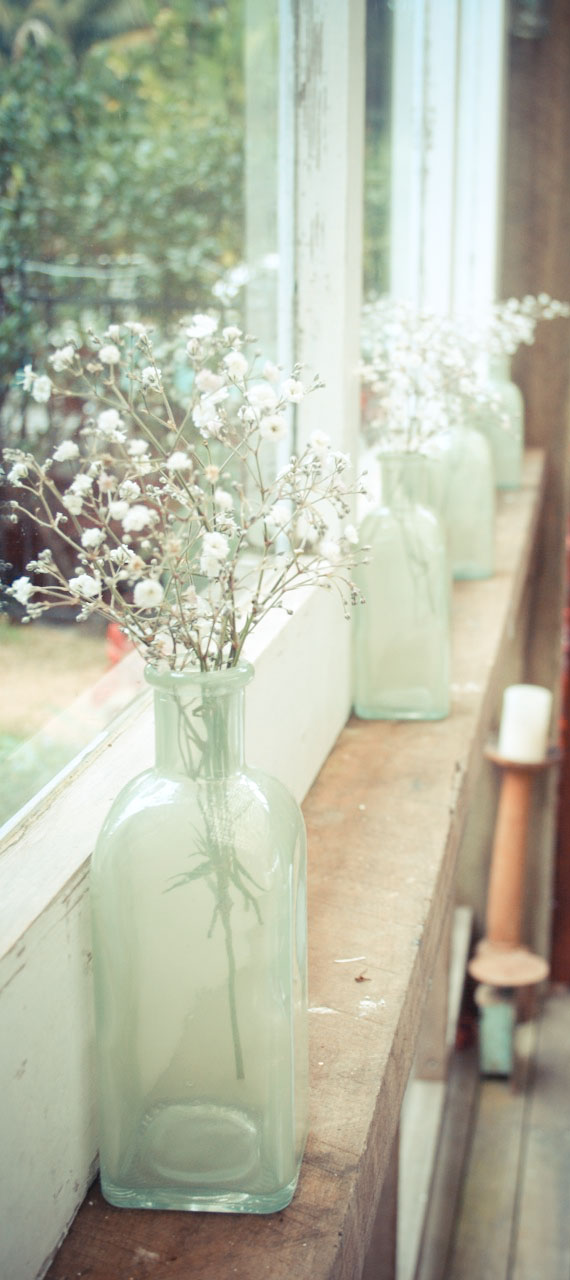 Last Friday seems like a whirlwind now, and you'll see all our efforts once I have more pictures to share but we were setting up from morning until about 8pm, and that entailed everything from:
+ Decorating the large front verandah (welcome drink area)
+ Completely transforming the "inside out" room (sunroom where we had our ceremony and drinks/ canapés)
+ Laying out the table settings/ centrepieces/ florals in the marquee (for the main meal)
+ Completely overhaulin' the artist's studio (dancing/ cocktailing/ photoboothing)
+ Having our ceremony rehearsal with the celebrant and bridal party
It was epic.
My parents deserve a medal. My friend Shannon – our day-of coordinator, who actually did nearly 3 days worth of work in the end – was incredible. Our bridal party were fab. Everyone was so calm and measured and magnificent and I'm still blown away by how it all came together so beautifully.
Like everything along the way with our wedding, the changes to the plan made it SO. MUCH. BETTER. I never thought I'd say that about rain, but seriously, it's all we've heard from our guests (we'll go into that more in a later post)

Stay tuned for Part 2, lovers! Mrs MacDonald, signing out for now.