1. Amazing breakfast smoothie – recipe below
2. Scrumptious salad – recipe also below
3. Snack time – almond spread and apple slices
4. Me with a massively shiny forehead (detox effect or too much rosehip oil?) drinking my Urban Remedy breakfast juice – spinach, banana, cos lettuce, lime, apple and spirulina.
The Clean Program: A Rundown
On Monday, I embarked on a three-week cleanse called the Clean program, created by holistic doctor, Dr Alejandro Junger, to "restore the body's natural ability to heal itself."
I've been thinking about doing a detox for a while now so I ordered the Clean book to see what the program was all about as I'd heard it mentioned a few times online (Gwynnie P is a massive fan) and I can tell you that I'm already very impressed – it's definitely something I'll stick to for the next 21 days. I'm feeling pretty great already so really looking forward to feeling clean and bright and full of energy and clarity come Sunday 09 October!
Why detox?
My decision to detox came after a whirlwind year of weddings, engagement parties, baby showers, dinner parties, birthdays and everything in between, and I finally reached the point last week where I thought enough is enough! There's never going to be a perfect time to start – we're always busy – so I decided to dive in headfirst, and I thought I'd document it all here as part of a Life Reset.
The thing I love about the program is that it's not restrictive in the slightest. It's full of good fats (avocado, nuts, coconut, oils, fish) and you can eat things like rotisserie chicken, most fruit and vege, raw cacao (my favourite!) and a bunch of other things that would normally be on the no-go list for a detox.
The program basically runs like this: two liquid meals a day, which encompasses a smoothie or juice for breakfast and dinner (can also have soup for dinner if you like) along with one 'proper' meal for lunch (protein and vegetables). If you're hungry, you can have a small mid-morning snack and late afternoon snack – something like hummus, guacamole, vege sticks, gluten-free crackers, fruit, nut spreads.You are also told to drink lots of water throughout the day, which is a no-brainer. Another big rule is that you must wait 12 hours between dinner and breakfast to aid digestion.
Further reading for the curious
Clean Program Planner
Elimination Diet Guide
Shopping List
What I've been eating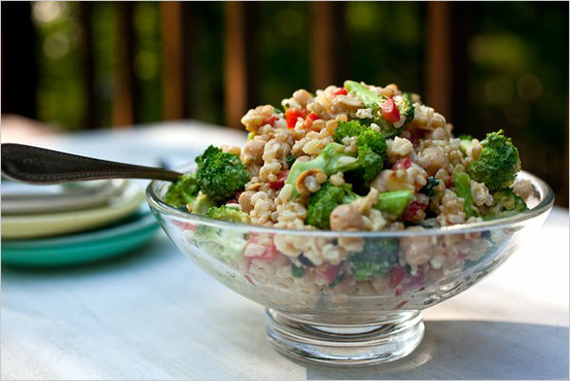 Tropical Almond Delight Smoothie
You will need:
2 slices mango
1/2 cup pineapple
1 tbs organic coconut oil
2 tbs maca powder
Ice
2 cups almond milk
* can add baby spinach too (don't worry, you can't taste it!)
Almond milk: to make the milk, I soaked 3 handfuls of almonds in water overnight, drained the water the next morning and blended almonds and fresh water (2 cups) in the blender. If you don't like the small chunky bits, you can sieve them but I do so I left them in.
Chicken and Spinach Super Salad
You will need:
Chicken breast
Brown rice or quinoa – quinoa is a complete protein (12 – 18% protein, which is great, especially for Ramai who's a vegetarian)
Drizzle garlic infused olive oil (um, yum!) mixed with cayenne pepper
Avocado
Chia seeds
Toasted sunflower seeds/ pepitas
Baby spinach

Snacks
Rice cakes
100% Almond spread
Apples
Avocado + lime juice (mashed)
Carrot sticks
How I've been feeling
1. More grateful
This one really surprised me! Not quite sure how to explain it but I guess with the clearing of toxins comes an increased sense of peace, and I noticed on my drive to work yesterday that I was looking around and thinking of all the things I was grateful for – thinking about my working environment and how I'm extremely lucky not to have to commute for hours, or work with a nasty boss who belittles me or colleagues who make my life miserable. I thought about how grateful I am to receive phone calls from my mother and my friends on the way to work, connecting me with the special people in my life before I dive into my working day, and finally, I thought about how blessed I am in my relationship (we've all experienced less-than-savoury relationships – I know I definitely have – and when you find that person that makes your heart sing every day, you cherish their presence so much!) There really are miracles and things to be thankful for everywhere – we just need to open our eyes a little wider sometimes.
2. More focused
I've gone back to the Pomodoro Technique to get some niggling tasks done at work and have found that I feel a lot more in control and less distracted this week, which has been interesting because I honestly thought this first week would leave me scattered and agitated as I went through "withdrawals." Bonus!
As a side note here, because I don"t drink coffee, I asked Ramai how he's felt for the past 2 days, to which he replied: "On Monday and Tuesday I felt lethargic and had a constant dull headache, but today I feel energetic, happy and really clear." Hooray, I can hear coffee-lovers everywhere cheering at that news!
3. More rested
On Tuesday morning I woke at 5:15am before my alarm and felt like I'd had enough sleep and it was time to get up, which is always nice. By contrast, today, I slept in until 6am and felt like I really needed it, even though we had the lights out before 9:30pm last night. It's all about listening to your body. I'm definitely sleeping more soundly which is great because sleep is when all the juicy rejuvenating happens. Rejuvenate away body!
4. More in touch with my body
As I mentioned above., I slept in this morning and was happy to have done so because I think I needed a good sleep to nurture my body through the first few days of this detox. I'd planned on going to the gym, but instead went for a beach walk with Ramai, which was beautiful – we sat and did a little meditation at the beach lookout (and no, we weren't cross-legged chanting Ommm) and I felt like it was far easier than normal to ignore distractions and "get in the zone."
I've noticed a shift in my energy levels this week too. I tend to live life at full-pace most of the time, and this often means I'll lie in bed at night and realise my heart is racing and everything feels really "fast" in my head. Not good! This can no doubt be attributed to eating too many sugary chemicals, and taking them out of my diet has left me feeling really calm. Slower. It's taught me a bit about the times I eat unnecessarily as well – instead of just grabbing at food (when I'm not really hungry) I've been waiting for my body to tell me when it needs it. It's lovely to feel real hunger again.
Finally, if anyone's interested, I've lost a kilo since Monday which is not my primary aim, but definitely gratefully accepted as part of the process.
Things I'm loving
1. Writing
I committed to it here and I've been sticking to my plan. I'd forgotten how good it feels to write down random thoughts – it's like having a delicious, insightful conversation with yourself and being surprised with what comes out. Will be keeping this up for sure, maybe not every day but as often as I can.
2. Coconut oil
I'm new to coconut oil and I love it! It tastes amazing, and is ridiculously good for you. Coconut oil is made up of 90% percent saturated fats (good fats) and 50% of the fat content is a fat rarely found in nature called lauric acid. Your body converts lauric acid into monolaurin, which is anti-viral, antifungal, antioxidant and soothing – which means it also supports thyroid function. It's also less fattening than other oils, which is fantastic. Read on for more on coconut oil for weight loss and the health benefits including hair and skincare uses. At the moment, I'm just having 2 tablespoons in our morning smoothie, which definitely takes the taste to the next level!
3. Maca powder
I'm infatuated with maca! An energising and revitalising superfood of the Incas, maca is jam-packed with vitamins, minerals, enzymes and all the essential amino acids. More on maca here – it's benefits are seemingly endless (especially if you're looking to ramp things up in the bedroom, haha!) I've been adding it to our morning smoothie and I feel like it's given me the energy boost and stamina I've needed to work, detox, blog and exercise without falling in a heap. LOVE.
+ So that's where I'm at for now – feeling good and half a day into my juice cleanse, which I'll review for you on Monday (to make it clear, I'm 'pausing' the Clean program for 3 days as I undertake a juice cleanse, which was kindly sent to me by Urban Remedy).
+ Are any of you considering a detox? Any questions? Please feel free to ask away!
Images: 1. NY Times 2. Welcome Back 3. We Heart It