For us Southern Hemisphere-ians at least, and I couldn't be happier! The mornings are lighter, the collective energy has lifted, blessings are poking their heads out of teensy little crevices and I'm feeling ebullient (word of the moment).
Some random thoughts and things from the past week:
One // I'm having a grand ol' time honing my intuition. When it tells me no, I assess the situation, trust that I'm guided and that's that. No regrets, no second-guessing. Bold decisions and then… peace. I turned down a big opportunity for my blog this week because I know I don't have the time to commit to it like a pro without running myself into the ground and spending less time here, and I honestly feel really good about it. My inner boundary-maker is rejoicing. (I'd love to know about your inner guides – have they sent you any profound correspondence of late?)
Two // Hairdressers have magic powers. Whipping my hair back and forth as I type (not really… ok, just once).
Three // If I had to choose just one question from the Things People Ask Me Most Often bag, it would be this: "How do you juggle it all/ get everything done?" Warning: truth ahead (and I'm telling you this because I know you're riding the wave of your own big desires too and it can be comforting to hear what I'm about to say). Here's the thing: I do the work. Every day. I'm still waiting for the fairies to zoom in the front door and do it for me, but until then, I'll be sitting on the computer every morning before work while Ramai watches surf movies on his iPad. I'll be punching away at the keys on a Sunday while friends are sipping cider in the park. I'll have my phone permanently affixed to my hand when I'm out and about to respond to comments and emails (sometimes not straight away, but I'll always get to 99% of them). You'd be totally unimpressed with a movie screening of a 'Day in the Life of Rach'. Mainly it would involve a lot of loud typing. Bang, bang.
You'll notice I used the word 'comforting' up top and what I mean is, isn't it satisfying to know that living up to your full potential – a journey of many small steps towards that big goal – is as simple as taking action? Knowing we each have access to that power is what drives me and all the people I know that are in the early stages of running their businesses, raising kids and doing what their souls call them to do. I've been bearing witness to an incredible equation unfolding all around me at the moment and it goes a little something like this:
Big dream + passion + intention + actually getting the job done = opportunity/ delight/ contentment/ super happiness. It's a joy to behold.
Two more things on this topic. (1) Just as doing the work is essential, as is doing the down time. The lazing around, the switching off, the nature-hangs and beach-with-a-book days. Sleep, vegetables, inhaling and exhaaaaaaling – the other half of the circle. One needs the other. (2) Someone told me I was "so lucky!" the other day, but I know in my heart of hearts that simply being A Lucky Person wouldn't captivate me in the long run. Building something from the ground up and being blessed through dedication and optimism does. I won't go balls-to-the-wall forever, but it's what is required now and I'm telling you all this because I want you to know that your hard work matters. It's important. And when someone tells you that you're lucky, smile a knowing grin and think to yourself "Luck is something I create, baby."
Four // I re-read parts of Stephen King's book On Writing the other day. Have you read it? It's gold. Do you know he writes 7 days a week, 2000 words a day, without fail? Commitment is hot.
And now for the best of the rest…

R + R in Cosmo Bride!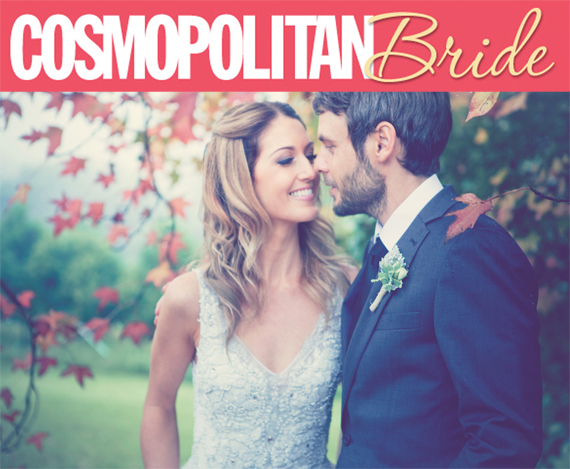 Our wedding is being featured in Cosmo Bride!
I've had to keep the lid on this for a while but can now finally reveal that our Big Day will be appearing in the next issue, hitting newsstands on 15 October.
When I was planning our wedding, Cosmo Bride was the only bride-y magazine I ever bought, and being featured in their lovely pages is definitely the icing on the (wedding) cake for what was the best day of our lives to date. Totally makes the all-consuming DIY jobs and endless planning and intense day-before/ day-of rushing around styling worthwhile. I'm thrilled for our 'A-Team' too – our wedding wouldn't have been what it was without the suppliers that helped it flow seamlessly. Bring on October!
Interviews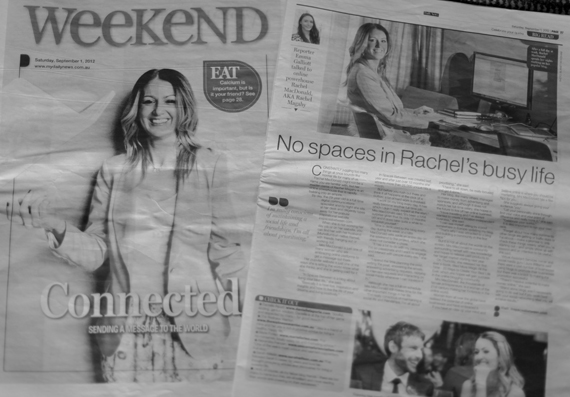 I popped up in the Tweed Coast Daily on Saturday and was interviewed by the effervescent, always sparkly Shanny from Let Your Joy Rise for her new series A Luminous Life.
Interviews are fun. Fact-a-mundo.
Books, Glorious Books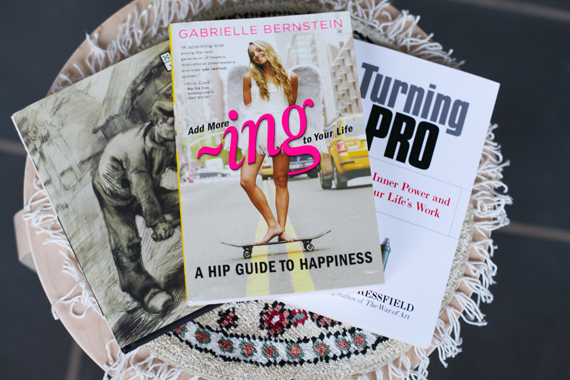 I love checking the mail at the moment. New treats this week include Gabrielle Bernstein's book Add More ~ing to Your Life and Steven Pressfield's Do the Work and Turning Pro.
Book Lovers Anonymous, here I come. But before I go… have you read anything amazing lately? (haha).
Tremendous tidbits:
Romantic dinners with my husband to celebrate his birthday + my A4 Moleskine – the love of my creative life + finally finishing the thank you cards for our wedding guests (cringes with embarrassment) + feeling kinda sorta maybe on top of things this week + backless tops + new affirmations on the shower screen + spending the day on Friday (public holiday) driving all over the place and "popping" in to see friends and family. Mum made me cry with her huge heart and humanitarian soul, Dad got a crash course in Facebook marketing, my brothers and I shared funny phone calls, and dinner with my best friends capped off a stellar day. Now to manifest non-work days every Friday…
Sunshine, that's my love list for the week and now it's all about you. A few q's:
1 // What are you grateful for? Set your joy free. Mine your life for blessings… and share 'em here. We're ready to celebrate with you.
2 // What boundaries need to be set in your life? Are you being stretched or challenged? Saying yes to everything and resenting it? Unload.
3 // What excuse or stale old story about yourself needs to be kicked to the curb right this very second? For reals. Let's kick it together.

PS: Have you read More Magic, All the Time yet? Download your free copy now using the box below. xo

{SHARE, LIKE, OR TWEET THIS POST USING THE BUTTONS BELOW IF IT BROUGHT A SMILE TO YOUR FACE TODAY!}