Welcome to the second installment of my 'Divine Dinner Parties' series – designed to take the panic out of your next dinner party or get-together by providing you with all inspiration you need in one place! I know when I entertain it's normally a bit of a scramble as I rush home from work and tear through recipe books to try and find something that strikes the balance between "easy to prepare" and "delicious to devour" so I'm hoping these posts make it a bit easier.
The first installment, Bohemian Dreams, was all about easy-to-throw-together soul food and rustic decor elements, and this time, due to popular request, we're celebrating everyone's old favourite: the Backyard BBQ.
Forget overly fussy lunches or stuffy dinner parties and invite your besties over for a lazy afternoon in the backyard, where the barbie and the tunes will be cranked and the vibe will be as chilled as can be!
Sunshine, fresh food packed with flavour, simplicity and laughter is what it's all about – a celebration of longer days and warmer nights. Break out the frisbee and the cricket set, run through the sprinkler in your teensiest bikini, stretch out on a banana lounge and don't forget to fill the Esky to the brim with your beverage of choice! Easy, breezy, beautiful (Cover Girl – ha!)

Meat/ Seafood
Mexican Steak Salad
You will need:
Flank steak, trimmed of any excess fat
3/4 cup extra-virgin olive oil, divided
1 tbs crushed capsicum
1 tbs ground cumin
1 tbs chili powder
1 jalapeno pepper, minced
1 cup red onion
3 cloves garlic, minced
3 spring onions, finely chopped
1/2 cup coriander, roughly chopped
Juice from 1 lime
3 roma tomatoes, roughly chopped
1 avocado, diced
I cup baby spinach/ lettuce
1 tbs freshly minced cayenne
1/2 cup toasted pepitas
1 tsp coarse salt
1 tsp freshly ground pepper
For instructions, view original recipe on Bev Cooks.
Crispy Prawns with Lemon Myrtle 
4 large green prawns
1 cup rice flour
1 tbs lemon myrtle leaf spice, ground
1 tsp paprika, sweet
Pinch chilli powder optional
Sea salt
½ cup cooking oil
2 fresh chillies, finely chopped
Lime wedges for serving
For instructions, view original recipe on All Recipes.
Serving tip
Sprinkle with a little fresh chilli and sea salt. Pile onto a plate and serve with lime wedges.
Vegetarian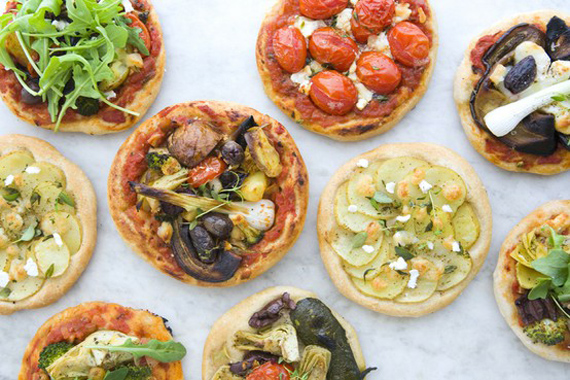 Vegetarian Mini Pizzas
 Makes around 8 – 10 small pizzas or 1 large
You will need:
Tomato sauce
1 tbsp olive oil
1 onion, chopped
1 clove garlic
2 tbsp capers (drained)
Pinch of dried chili
1 1/2 cup of canned tomatoes
1 tbsp fresh or 1 tsp dried oregano
Salt and pepper
Topping
4 pre boiled potatoes
Marinated artichoke hearts
Kalamata olives
1 zucchini (marinated)
1 eggplant (marinated)
4 brown mushrooms, cut in quarters
1/4 fennel, thin slices
Small tomatoes
2 small spring onions, divided in half
1/2 broccoli
100g goat cheese
Salt and pepper
Fresh rocket to put on after the pizza has been in the oven
For instructions, view original recipe on Green Kitchen Stories.
Vegetable Tian
You will need:
2 tbsp olive oil (divided)
1 large sweet yellow onion cut in half and sliced
2 cloves of garlic, minced
1-2 potatoes, unpeeled
1 zucchini
1 yellow squash
3 large Roma tomatoes
Sea salt, freshly cracked black pepper, to taste
Dried thyme, to taste
1/2 cup of grated Parmesan cheese
For instructions, view original recipe on For The Love of Cooking.

Salads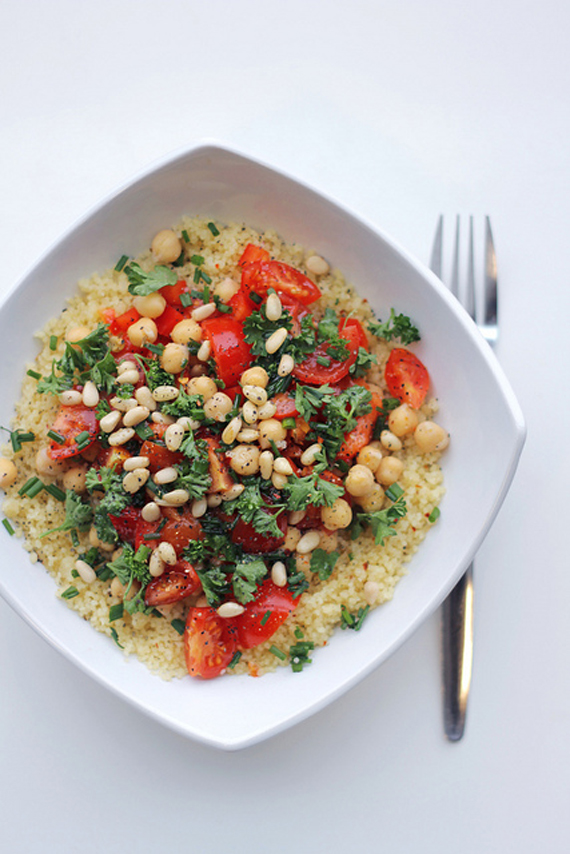 Capsicum, Chickpea and Cherry Tomato Couscous
You will need:
100g wholegrain couscous
100g cherry tomatoes
1/2 red capsicum
Can of chickpeas
Chives
Curly parsley
Pine nuts
For dressing, view original recipe on Salad Pride.
Tortilla Salad
3 cups kidney beans, room temperature or warm
1/3 cup toasted sunflower seeds (or pepitas)
1/4 cup this dressing (or other favorite vinaigrette), or to taste
2 cups chopped cauliflower (stems, leaves, florets), boiled in a bit of salted water for just 20 seconds, then drained under cold water
2-3 big handfuls of tortilla chips
1/4 cup crumbled feta
1 small (watermelon) radish, sliced paper thin – can supplement with regular radish or vege of your choice
1/2 avocado, sliced
For instructions, view original recipe on 101 Cookbooks.
Sweet Stuff
Strawberry Shortcake Popsicles
You will need:
1 ½ cup pureed strawberries
½ cup crushed vanilla Oreos – not even sure if we have these in Australia, so substitute with any vanilla biscuit
2 cups vanilla yogurt
For instructions, view original recipe on Bakers Royale.
Apple, Ginger & Cranberry Vodka Cocktails
1 cup cloudy apple juice
1 cup cranberry juice
50ml vodka
Ginger Ale
Ice
For instructions, view original recipe on What Katie Ate.
+ Over to you! If you were heading to a BBQ and were told to 'bring a plate,' what would you bring?
+ Finally, if you like this post, would you mind clicking 'Share on Facebook' below. Thanking you! x
Image and recipe sources: Moodboard images; Mexican Steak Salad; Crispy Prawns; Vegetarian mini pizzas; Vegetable Tian; Couscous salad; Tortilla salad; Strawberry Shortcake Popsicles; Vodka Cocktail